I am honored to have been able to interview Jillian Quinn, author of "Corrupt Me" and fellow PA native. I also was afforded the opportunity to review "Corrupt Me" which will appear here on January 16, 2017. I really enjoyed this book and enjoyed interviewing Jillian even more!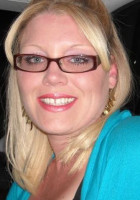 You seem to have quite a genre gap between your three books; do you have a favorite sub-genre or do you enjoy playing the romance field?
I like romance novels that have a good story whether they are sports, contemporary, Mafia, or anything in between. I also like fantasy and paranormal, so I will read a romance in that sub-genre if the premise sounds interesting.
How long did "Corrupt Me" take you to write and what is your favorite scene?
It took me about one month to write Corrupt Me, but I spent another two months editing and refining the characters and story. Choosing one scene is hard. I have to go with the epilogue because of how adorable Luca is with Izzie. I don't want to get into specifics because that would spoil the ending, but I melt every time I read the end of Corrupt Me. Luca is my ultimate book boyfriend.
What is your favorite book/book series/author, besides your own?
My favorite romance author is Colleen Hoover, but I think Jamie McGuire would be a close second, especially if you count all the books of theirs that I own. My favorite Colleen Hoover book to date is her latest novel, It Ends With Us. My favorite Jamie McGuire book is Beautiful Disaster, which is the novel that hooked me on new adult romance. I love all of her books, but another one of note is her Happenstance novella series. I could not put those down and the characters stayed with me for weeks.
Do you see "Corrupt Me" becoming a series? If so, do you have anything in the works now?
Yes, Corrupt Me is part of the Philly Corruption Series. The second novel in the series, Totally Corrupt, is told from Mario Marchese's point of view, and the third book is titled Completely Corrupt and told from Anthony Marchese's point of view. You will see more of Luca, Izzie, and the Marchese family in the rest of the books. They will also expand on the story and the world I developed in Corrupt Me. For readers who want more Mafia involvement, they will get it in the next two books. I'm also working on a free novella for my newsletter followers that will expand on the series and serve as a prequel/companion novella to Corrupt Me. It also gives some insight into the family and their associates.
When you started "Corrupt Me" did you know how the story was going to go?
Originally, Izzie was in a sorority and the daughter of the FBI agent in the book and not the granddaughter of a tycoon. There was a different concept to the original story, and as I wrote the book, I decided to change directions, which meant re-writing a lot of what I already had in my first draft.
What is the best and worst thing about being an author?
The best thing about being an author is connecting with fans that love your book. I love hearing from readers, and I will always interact on social media. The worst part of being a writer is marketing the book. It is one of the hardest and most time consuming aspects of being an author. It takes away from a lot of the time you need to devote to writing, which is why I recently hired a PA to help with my publishing journey.
The lead female in "Corrupt Me" is really funny and sassy; do you pull from your own personality for Izzie's character?
Izzie is a lot like me. One thing you will always get with my books is a strong female lead that can stand on her own. That part of Izzie's character is very much inspired by my own personality. I am also extremely sarcastic and have had a lot of male friends my entire life, so I have that same comfort level are men and standing up to them that you see with Izzie in Corrupt Me.
I'm a PA girl myself so I have to know, Pat's or Gino's?
If I have to choose one, I would go with Pat's but I prefer Tony Luke's when I'm in South Philly. They have the best chicken cutlet sandwiches and mozzarella sticks I have ever tasted, which is why I decided to add a scene between Luca and Izzie there. That particular scene in the car between Izzie and Luca was inspired by a date I had about six years ago. As far as my favorite cheesesteak in Philly, I am obsessed with a place called Gino's Pizza on Frankford Avenue in the Mayfair section of Philly. It is hands-down the best. I could eat one every day of my life and never get sick of it.
What is your writing ritual? (where do you sit, what do you write on, coffee or tea, do you wear a snuggie, ect?)
I typically go to Starbucks, order a venti non-fat latte, and listen to music while I write in my bed. Before I had to move in with my parents temporarily, my favorite place to write was on the couch in my living room with the TV on. For some reason, I can write like crazy with sound in the background and completely drown it out.
If you could bring one of your characters to life, who would it be and why?
I would go with Luca Marchese because I love him. I always wanted to date a mafia guy, and when I created Luca, I thought he would be a less scary version of what I'd probably get in real life. He's a bad boy and a player, but I like a guy who is nice to his mother, respects his family, and can treat a girl like a princess when he finds the right one.
Where to buy:
– Amazon (universal link) myBook.to/CorruptMe
– Barnes & Noble http://tinyurl.com/zmewnm4
– Kobo http://tinyurl.com/hs57ewx
– iBooks http://tinyurl.com/jno2tzhl
Corrupt Me by Jillian Quinn on Goodreads
As always,
Happy Reading Lovelies
XoXo